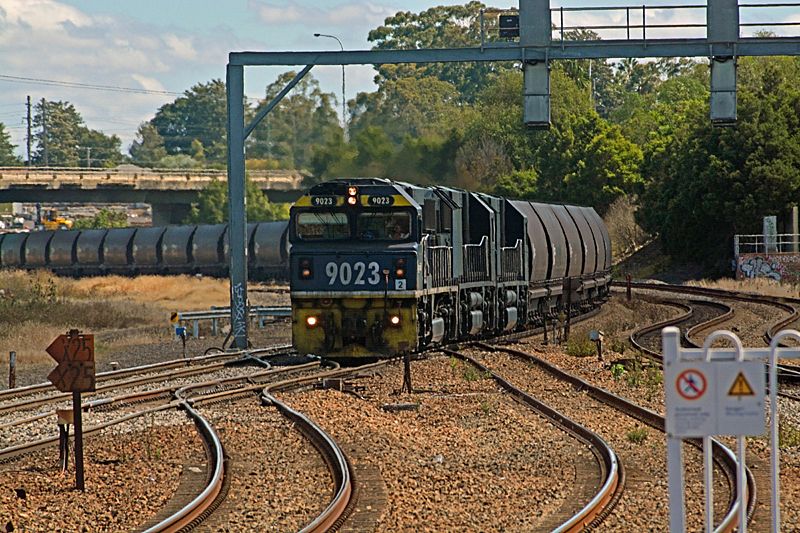 This is Maitland on April 1st 2015  class 90 9023 9015 and 9011 approaching the station.
I have just arrived after a three hour jaunt from Sydney. (By train of course changing at Hamilton)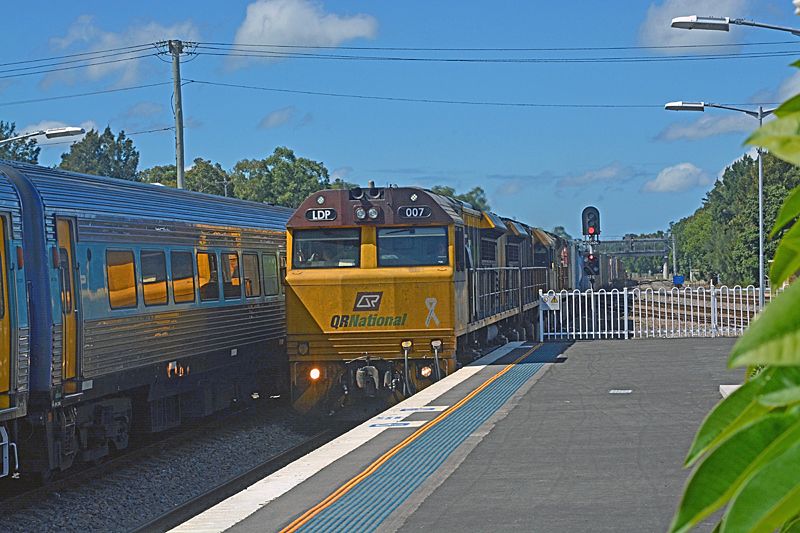 Not a very good shot but a intermodal heading I guess and it is a guess!  towards Queensland? The lead loco is a Downer GT46C LDP 007, as it was powering theough the platform, I was unable to get the other two locos but they were identical.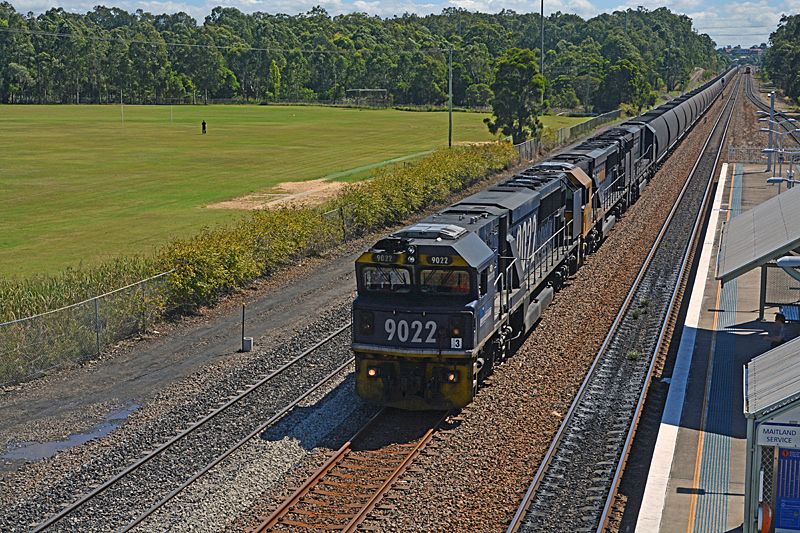 Went to Metford, a good move, because they were backing up or "On the block " there was quite a procession of  loaded Coal trains heading towards Newcastle
I had only just missed the coal train I had seen at Maitland, This one again hauled by class 90s All the twos 9022.9032 and 9002, This class is restricted to this route
due to their axle weight.
Next through Metford, was a trio of Pacific national TT class Nos TT03 TT120 and TT108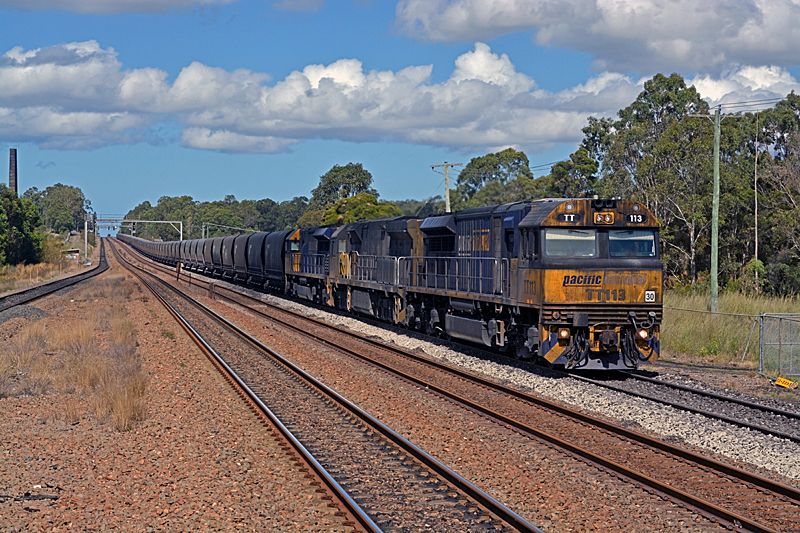 What goes in, Must come back! A rather grubby set of locos again GT46ACE TT 113 with class 92 9203 in the middle and TT128 off in search for more coal to take to
Newcastle! passing Metford.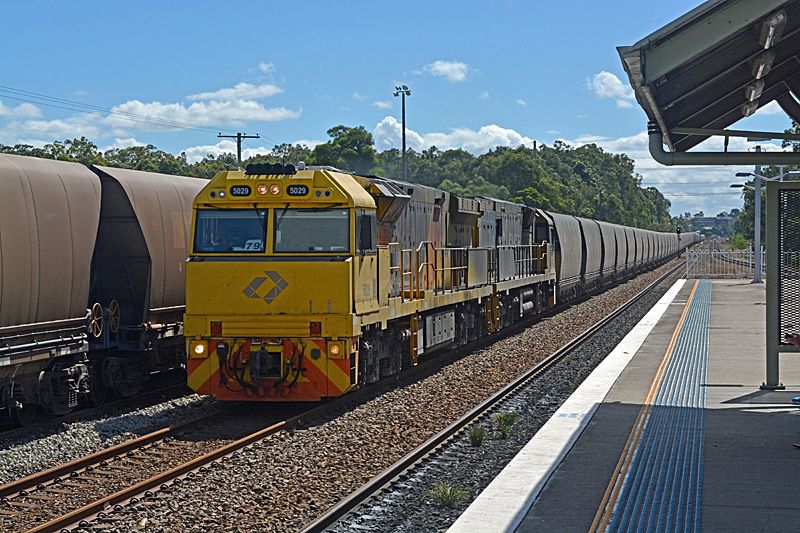 And still they keep coming and it looks like this one had come from Queensland (?) More GT46s QR 5029 and 5002, quite a variety of different  classes along this stretch of line.
A bit different, (and cleaner)
 the 1136 Sydney to Grafton HST....Sorry, XPT Power car 2000 "City of Maitland" Leading past Metford.
Ah Yes, This just had to be the catch of the day!
 Whitehaven Coal have a fleet of just three GT46s Numbered WH001 WH002 and WH003
Here they all are and in sequence as well!
And bringing up the rear of the Metford Cavalcade.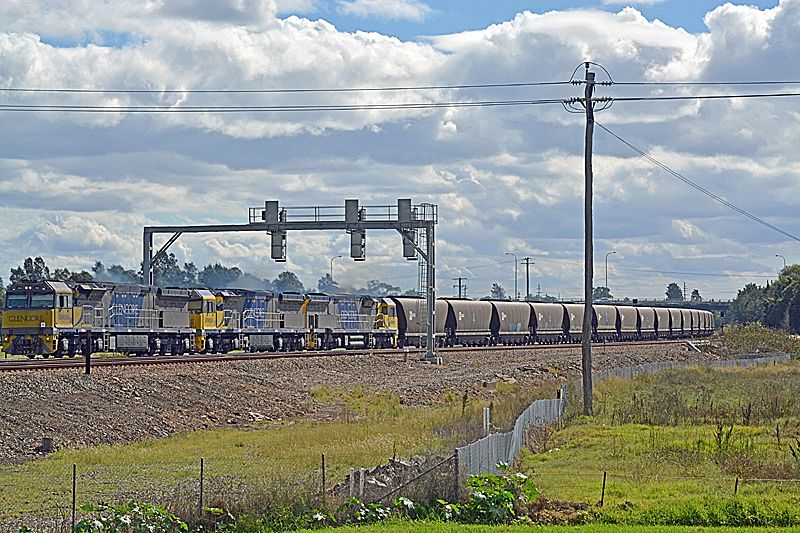 Nearly a photograhic Disaster as Glencore (another coal operator) XRN 006,XRN 026 and XRN 010 pass under the signal gantry approaching Maitland This class is related to the class 92s and are C44aci similar to the USA Dash9.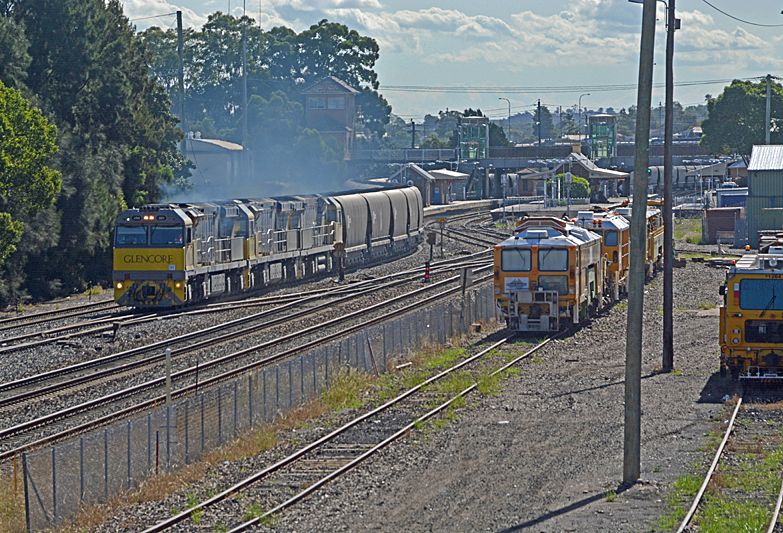 This time from the other end of the station at Devonshire road and with the sunlight becoming crucial  Another set of Glencore XRNs snake through Maitland station this time it's XRN 021 030 and 022.
Coal traffic was becoming lighter by now, but still a good day.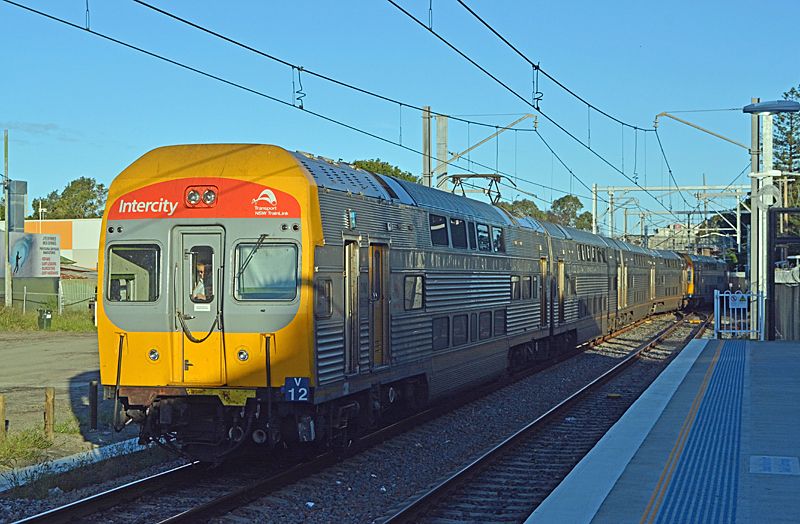 Not the train to Newcastle!
The local politicians have succeeded in closing the stretch of line from Hamilton into Newcastle at the end of  2014.
So Intercity unit V12 shunts at Hamilton prior to working back to Sydney.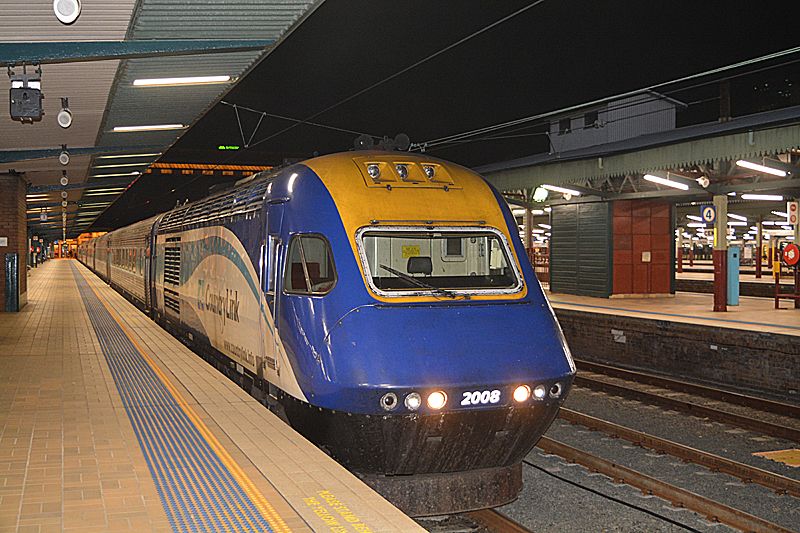 Back in Sydney. XPT 2008 having arrived from Melbourne prepares to depart for the depot for servicing.
Cheers
Andy

Andy Moody (AKA AJ52MDY on the UKTS site) West Moors, Dorset on the "Old Road" closed September 1964

andrew moody




Posts

: 417


Join date

: 2013-01-21


Age

: 70


Location

: West Moors Dorset UK



Thank you for sharing these, and they made interesting viewing.

ALEC
-
Supporter of MSTS and TSSH!

rufuskins




Posts

: 3611


Join date

: 2013-01-17


Age

: 72


Location

: Milnrow, Lancashire



Similar topics
---
Permissions in this forum:
You
cannot
reply to topics in this forum