MSTS - Helpful Facts and Links - Part 25 (MSTS "Environments") by Ged (Slipperman12)
This is another part in the series of posts that are intended to give a simple history of MSTS, point people to the various links considered vital to maximising the performance, and describe elements within the MSTS hierarchy as well as allowing an understanding of the various components that make up MSTS.
In this part Ged (Slipperman12) describes how he has attempted to use MSTS as efficiently as possible when running the simulator, carrying out testing and creating new add-ons, where it's important that the "environment" is correctly set up.
By "environment", it is meant the folder/files arrangements within MSTS
. We would welcome any comments on similar "environments"/setups that are used by other simmers and these should be posted in the TSSH – Help section.
It may be worthwhile relating Part 25 to
Part 24
, which considers testing procedures.
An example of an "environment" is shown below:-
Figure 1 – An MSTS "Environment" as created by Ged (Slipperman12)
The current active installation is the folder called
"Train Simulator"
. Using this arrangement, it's very quick and easy to change between any of the installations - rename the current active folder according to its main purpose, then rename the desired folder to "Train Simulator". As an aid, each Train Simulator folder contains an additional folder called "This Folder - xxxxxxxxx" to identify its main content; within this folder are pertinent notes.
The following is an illustration of this:-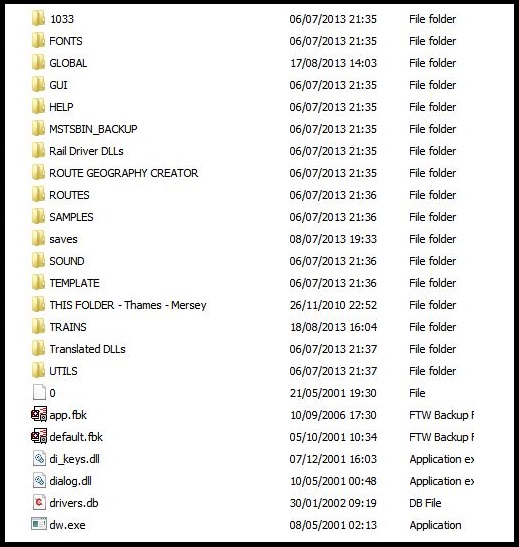 Figure 2 – A typical Train Simulator folder content as created by Ged (Slipperman12)
Programs like RouteRiter and TrainStore only look for "Train Simulator" on a specified drive, not a particular position on that drive, so they work correctly whichever folder is made active. One very important point to remember is that if TrainStore has been used, then everything must be
un-stored BEFORE
changing the active folder.
An on-line archive of all previously created Train Simulator folders should be maintained, which means that any one can be copied into this environment as required. When folders are no longer needed in this "environment" they are either deleted or copied out to the archive.
When installing and/or amending all or any part of MSTS it is strongly recommended that you create a back-up copy, because even with the best will in the world mistakes can and will happen. There's many a "simmer" who can testify to that.

ALEC
-
Supporter of MSTS and TSSH!

rufuskins




Posts

: 3611


Join date

: 2013-01-17


Age

: 72


Location

: Milnrow, Lancashire



---
Permissions in this forum:
You
cannot
reply to topics in this forum