Andy - TSSH Footplate Crew
to quote a line from a very famous Movie "ain't it the truth" Boom Boom

Roger

neanderthal




Posts

: 787


Join date

: 2013-04-30


Location

: Gwent




Thank You Ben  A4PSmember[b][color=#ff9933]

bharrison




Posts

: 621


Join date

: 2013-01-22


Location

: Somewhere on the old LNER network North of york



Damn it man, you beat me to it.
How about this one: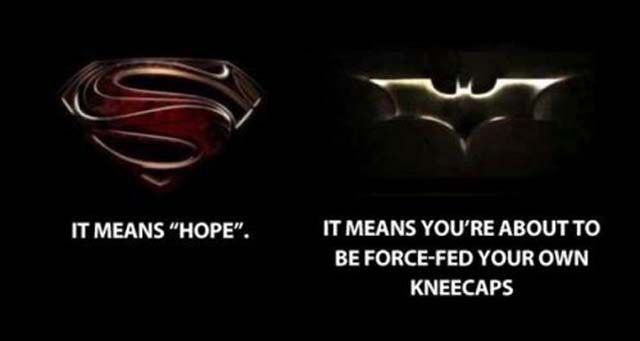 For those of you who may not get the joke: in the new Superman movie, Superman says that the "S" on his chest is Kryptonian for hope.
And as we all know how much of a bad a** Batman has become, his crest has come to mean you are in for a whole world of hurt.
Justin


A family is at the dinner table. The son asks his father, 'Dad, how many
kinds of boobs are there?
The father, surprised, answers, 'Well, son, there are three kinds of boobs:
In her 20's, a woman's are like melons, round and firm. In her 30's to
40's, they are like pears, still nice but hanging a bit. After 60, they are
like onions'.
'Onions?'
'Yes, you see them and they make you cry.'

This infuriated his wife and daughter so the daughter said, 'Mum, how many
kinds of 'willies' are there?.
The mother, surprised, smiles and answers, 'Well dear, a man goes through
three phases. In his 20's, his willy is like an oak tree, mighty and hard.
In his 30's and 40's, it is like a birch, flexible but reliable. After his
60's, it is like a Christmas Tree.'
'A Christmas tree?'
'Yes - the tree is dead and the balls are just for decoration.'

Andy - TSSH Footplate Crew
Similar topics
---
Permissions in this forum:
You
cannot
reply to topics in this forum