Hi,
JonathanDavid recently posted regarding a problem he was having getting a Castle and 9 Mk1 coaches up to a respectable speed.  
I thought I'd do some tests using an un-modified MSTS loco and the same model optimised for use with Open Rails.  An OR Castle is not available and the nearest I could find was a Hall, on the CoalstoNewcastle site; this is based in the Hall created by Frank Sandwell which is available as UKTS_25123.  
I don't know how long a real Hall (or similar loco) with 9 Mk1 coaches would take to get to 40mph from a standing start, but these are the figures I got :
1. MSTS Loco    starting Regulator 80% , lowest Regulator 76%, lowest CutOff 45  -  9 minutes
2. OR Loco         starting Regulator 89%,  lowest Regulator 66%, lowest CutOff 60  - 16 minutes
For comparison, in MSTS, the MSTS loco took less than 2 minutes with starting Regulator at 22% and CutOff gradually reduced from 75 to 55
In Open Rails,
1. a loco wouldn't start to move until the Regulator was at about 80%,
2. reducing the CutOff (according to the following table) below about 55 resulted in speed being lost.
3. Messages such as "Boiler heat rate cannot increase" and "Fireman must shovel harder" displayed
I appreciate that the MSTS timing is probably very unrealistic, but what about the OR timings?
The tests were all carried out using the MSTS default Settle Carlisle route on the path Appleby - Carlisle.
I found a document which gave the following 'real' settings for an average loco - the Regulator setting will vary according to the loco's characteristics :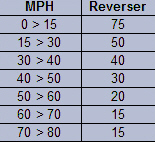 In all the steam loco driving videos I've seen, the Regulator is opened in very small amounts until movement starts, so 80% seems very unrealistic!
What do others feel about driving steam locos in Open Rails?
Cheers,
Ged

Intel i5 4690K (3.5GHz), Gigabyte GA-Z97P-D3 m/b, 12GB RAM, NVIDIA GTX 750ti (2GB), ASUS Xonar DS Sound Card, Win 10 Pro 64 bit.

slipperman12




Posts

: 1699


Join date

: 2013-01-29


Age

: 78


Location

: North Nottinghamshire



Hi Ged,

Have you read Chapter 8 in the Open Rails Manual? This gives a lot of useful information most of which is beyond me! However, when creating activities for the Huddersfield and Environs 1920's I found that a reasonable performance was obtained with the route specific engines, bearing in mind that the activities had to work for everyone without modifying the eng. files.

I have found that quite often that there can be big performance difference between the same engine in the two simulators, sometimes double-heading is the only way to get the necessary power.

Regards,

Stephen

Stephen

StephenRWells




Posts

: 559


Join date

: 2013-07-15


Age

: 70


Location

: Arncott,Oxfordshire



I've found a copy of an "OsNockLog" for a Castle out of Paddington in an old book. Can't copy and paste here for copyright but gist as follows;

Castle Class 4084 "Aberystwyth Castle" on Load 18 (!).
Acton 4.5 miles 48 MPH.
Ealing Bway 5.8 miles 52 MPH.
Southall 9.0 miles 58 MPH.
West Drayton 13.2 miles 65 MPH.
Following a slack at Slough reducing speed to 60 MPH, 76 MPH at Maidenhead.

Top speed recorded was 80 MPH at Charlton Mackerell.

Hope this helps.

OldVern




Posts

: 102


Join date

: 2016-10-07


Age

: 59


Location

: Swindon



Hi,
@Vern : Looks interesting - Thanks
I didn't note how far had been travelled in my tests, so must re-do them.
@Stephen : Thanks for your reply. I'm afraid that most of Chapter 8 is also way over my head! I accept that there can be big differences in the performasnce of an un-modified loco in MSTS and OR, with the former being quite unrealistic (but it's what we've got used to!).
I also tested an OR optimised Bulleid pacific (from the CTN site) with the same 9 Mk1 coaches and that reached 60mph after about 6 minutes, but with the regulator at 100% and cutoff at 55 - it was still accelerating (slowly!) with 35 cutoff, so doesn't seem too bad. There is still the problem (to me) of requiring the regulator to be at 80%, or more, to start the loco moving. There may not be such a problem with the cutoff for all steam locos, as witnessed by my Bulleid test, but, even so, it still has repercussions for activity writers - is there any parameter in the .eng file which controls the effect of the various reverser settings?
Cheers,
Ged

Intel i5 4690K (3.5GHz), Gigabyte GA-Z97P-D3 m/b, 12GB RAM, NVIDIA GTX 750ti (2GB), ASUS Xonar DS Sound Card, Win 10 Pro 64 bit.

slipperman12




Posts

: 1699


Join date

: 2013-01-29


Age

: 78


Location

: North Nottinghamshire



Hi Ged,

Sorry I can't help with that.

Regards
Stephen

Stephen

StephenRWells




Posts

: 559


Join date

: 2013-07-15


Age

: 70


Location

: Arncott,Oxfordshire



Similar topics
---
Permissions in this forum:
You
cannot
reply to topics in this forum