Hello all,

This is cross posted in a few places in the hope that I might get some information.
What I am looking for is:

(1) Specifications of ejectors, exhausters, vacuum pumps - such as cone sizes for ejectors, steam consumption, amount of air expelled in cubic feet per minute, power consumption of exhuasters, sizes of main vacuum reservoirs on locomotives.
By way of examples
Does anyone have details of LNWR ejectors?
The exhausters on a Class 40 could expel 250 cfm in fast mode or 170 cfm in normal mode. Was this a general specification for main line diesel and electric locos? What about smaller locos like class 08?

(2) Information regarding which locos were fitted with which types of equipment. Gresham & Craven Dreadnought ejectors seem to have been widely used in the early 20th century. Does anyone know of companies that used Davies & Metcalfe or Westinghouse ejctors? LNWR, MR and GWR manufactured their own ejectors, which other companies did so?

(3) Information about what size and type of brake cylinder was fitted to different rolling stock. LMS 8-wheel bogie coaches had two 18 inch type C cylinders. Highland Railway bogie carriages had two 15 inch cylinders. What about carriages and wagons of other lines?

If you think you may have some useful information or know a source of useful information please get in touch via this thread or by pm.

Thanks

darwins




Posts

: 36


Join date

: 2013-01-18



This does not really answer any of your questions, but it may help a bit. I had an interesting footplate trip up and down the Bluebell Line on an S15 - a King Arthur with smaller wheels, often known as a 'Goods Arthur'.

The brakes were blown off about a minute or two before the Right Away by putting the brake handle in the Running position, which allowed the small ejector to do the work. This in MSTS is the equivalent of having
   VacuumBrakesSmallEjectorPowerRating ( 3.0 ) . . . at 30, not 3.0. Some of Dave Robinson's locos have this figure.

The Release position was only used once, by pushing the brake handle forward from the Running position against a spring. This worked the large ejector, which was obviously quicker than the small ejector, but not that much. The handle sprung back to the Running position after use. There was only one Release position.
   TrainBrakesControllerMaxReleaseRate ( 1.6 ) seems about right.

This makes for very interesting braking in the Sim, but it is quite workable. Of course other locomotives have quite different arrangements. Your Cauliflower has a more usual set up.

Roderic

RIGFindlay




Posts

: 385


Join date

: 2014-02-06


Age

: 79


Location

: Bridport



Thanks for that Roderic.

Every piece of information helps at the moment.

A common theme I am finding is that it should be possible to release the brakes on many locos using the running position.
The small ejector on steam or exhauster and vacuum reservoir on diesel should be able to do this provided that
(a) the train is not very long
(b) the driver has stopped at the station with about 16 in Hg on the gauge (stop with a rising vacuum read all the instructions that have found for steam drivers).

Did you take any cab photos that show the brake? They might help to identify which kind of ejector was fitted to the S15.

Regards

Darwin

darwins




Posts

: 36


Join date

: 2013-01-18



Yes, there are some quite useful cab rides on YouTube, and 'stop on a rising brake' seems good advice. It is quite easy to do with the small ejector setting I mentioned. Here is the cab of the S15 with the brake handle in the running position.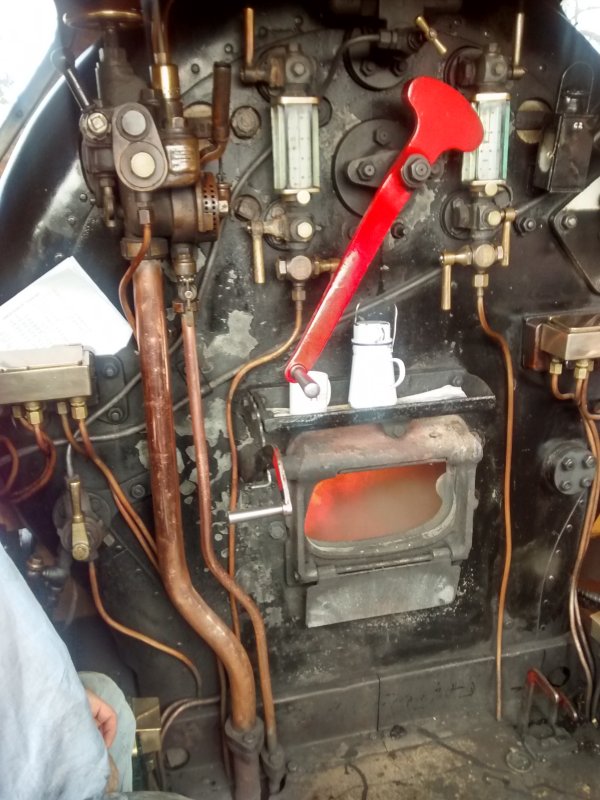 Regards,
Roderic

RIGFindlay




Posts

: 385


Join date

: 2014-02-06


Age

: 79


Location

: Bridport



After a couple of weeks of research I am beginning to feel like a vacuum brake nerd!

That one is definitely a Gresham & Craven ejector and probably a Dreadnought. (Same as those used on the Highland Railway!)

I can probably find out about variations by looking at cab photos and you tube videos.

It is a nice photo. I could use bits of that (including brakes) to improve my the textures in my Highland cabs.

Perhaps I should invite people to send me cab photos that I can use for making cab textures!

darwins




Posts

: 36


Join date

: 2013-01-18



I know what you mean. I have done the same thing for vacuum brakes and the original Westinghouse (not electro-pneumatic) brake. One goes round and round in circles on the internet for only a very small advance. Roderic

RIGFindlay




Posts

: 385


Join date

: 2014-02-06


Age

: 79


Location

: Bridport



Hello

I am looking for information about small diesel mechanical shunting locos with vacuum brakes (for example BR class 03)

These generally had exhausters that were driven by the engine crankshaft.

Was there a "High Vacuum Reservoir" to assist with release?
Or did the driver simply need to rev the engine (in neutral gear/engine only) in order to release the brakes more quickly?

Any specific information about brake system on Class 03 such as exhauster model or capacity (cfm) welcomed.

Information about similar small diesel mechanical locos with mechanical exhausters either standard or narrow gauge also welcomed.

Regards

Darwin

darwins




Posts

: 36


Join date

: 2013-01-18



---
Permissions in this forum:
You
cannot
reply to topics in this forum