Hi all,
Not sure if anyone can help? I am using PolyMaster to try and get my 4TC set checked. But I have noticed that the seats I have done are upping it to 77714. (Well over what is required of 14000)
I have tried many things, but I am sure I have overlooked something..... Does anyone know how I can get this down please? - It's getting really frustrating.
Thanks in advance
Andy

Andy - TSSH Footplate Crew
Have you run it through Shape Fixer?

If not it's file 17056 on UKTS.

NiallGray




Posts

: 409


Join date

: 2013-01-18



do you use TS Modeler if so you will have a part (mines called main) were all the other parts are parented to when building a loco i make a copy of the main part and rename it main_extra and parented it to the main then all the small and detailed parts are parented to the extra one so when you go into Polymaster each part shows up separate so you can then split the shape up in to smaller sections and reduce the ploy count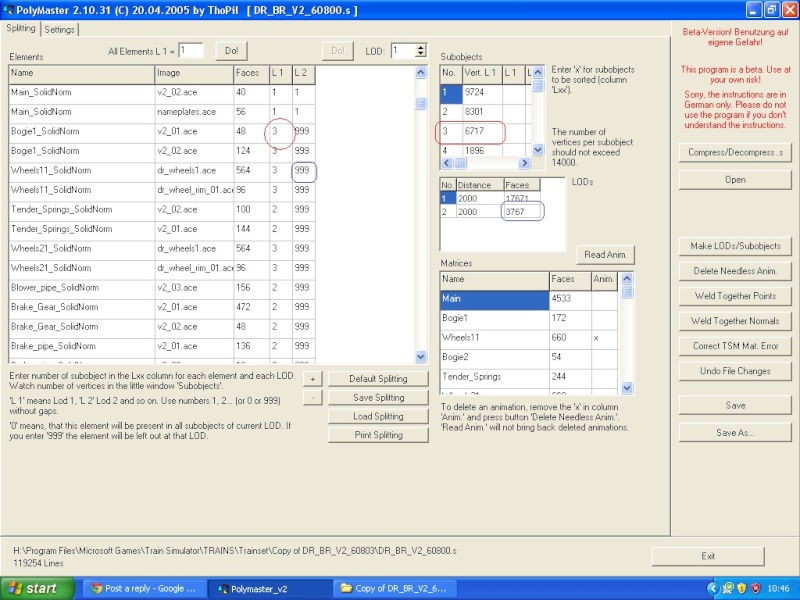 Here i have split this one up into 4 section and arranged the subobject column so the number in the vert L1 column go's down in size but you also have to get theses numbers under 14000 but i find the sim dosn't like it so i try to keep the numbers below 10000
the 999 in the L2 column tells you what is visible in the sim mine is set to 2000m and i try to keep this low as well at 2000m you cant really see much different's.
just one more thing if you are using transfers for windows anything inside will have to have the same number in the L1 column as the tex with the transfers or you wont see them.
Im not very good at explaining things but i hope it makes sense if not let me know what you don't understand and ill try again
hope this helps
Dave

---
Permissions in this forum:
You
cannot
reply to topics in this forum