Since my darling wife died last Christmas I have been looking for something slightly different to occupy my mind and time. TSM hasn't quite done it, so I've turned to model railways. I have managed to create a space of 3000 mm x 450 mm in the room where the computer is located.
My woodworking skills are very poor so I opted for the base boards to be made for me - expensive but worth it to ensure a level surface. They consist of three separate boards joined together by dowels and clips. In addition I had 300 mm high backs added. I have covered the main layout area with 3 mm thick cork, and so far  loose laid track has been positioned in my first proposed scheme. I am not too happy with it and will be trying some alternative layouts over the next day or two. Track is Peco Setrack, which for me is quite acceptable and I will installing working points and signals. I have to date spent a lot of time reading and watching You Tube videos in order to both understand how the electrical parts work and are installed.
The conclusion so far is that model railways are expensive, although accessing second hand (pre-owned) stock in particular can provide some savings.
I've attached a few pictures to show where I'm at.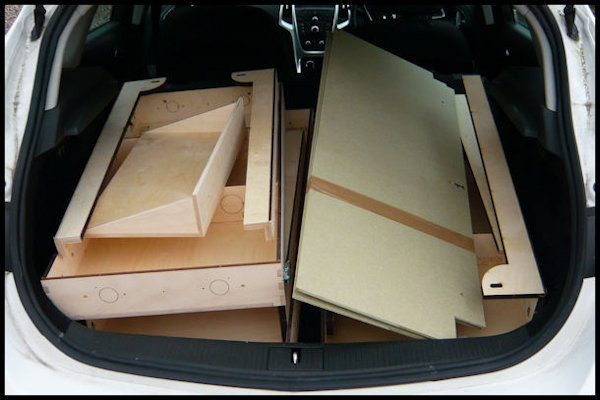 The base boards arrive home from White Rose based in Bedale.
The base boards are being erected.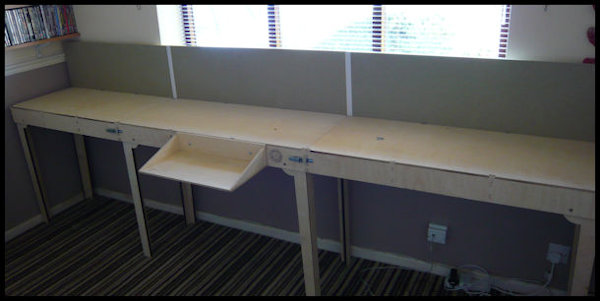 The base boards in their final location.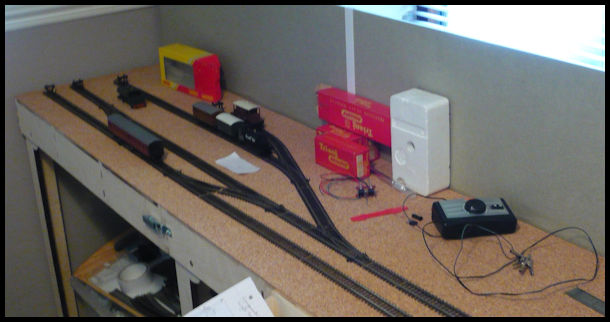 Track has been loose laid and some borrowed stock stock run.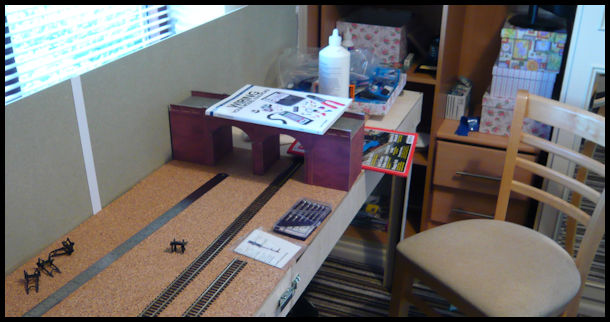 The viaduct will probably form the break with the fiddle yard.
I Intend to build my own cassettes for use in the fiddle yard area, combining 3mm ply and plastic angle. I will attach strip LED lighting to the back scene.

ALEC
-
Supporter of MSTS and TSSH!

rufuskins




Posts

: 3483


Join date

: 2013-01-17


Age

: 69


Location

: Milnrow, Lancashire



Thanks for posting! The base boards look great and you seem to have managed a good length layout too. I bet you're loving it......and so you should! I do feel a little envious...


dee4141




Posts

: 310


Join date

: 2013-01-20


Location

: Scotland




ALEC
-
Supporter of MSTS and TSSH!

rufuskins




Posts

: 3483


Join date

: 2013-01-17


Age

: 69


Location

: Milnrow, Lancashire



Sorry to hear about your loss Alec.

The boards look a promising start. A lot of people decry the use of set-track but I have some installed on my N Gauge layout and it does the job. I also have flexi track but in the yard and some of the junctions set track points are in use.

And yes model railways are expensive.

Easilyconfused




Posts

: 8


Join date

: 2015-05-30



Good luck, Alec. There is a very useful website: ModelRailwayScenery.com. If you get on their email list you get lots of good YouTube videos about how to do things. They do very useful cards kits and other items. All good wishes. Roderic

RIGFindlay




Posts

: 297


Join date

: 2014-02-06


Age

: 76


Location

: Bridport



Thank you for your kind thoughts John, they are appreciated as are those for the model railway.
Thanks for the website address Roderic and I'll look it up today. The viaduct you see in the pictures is a Metcalfe kit, and I have several others namely an LNWR signal box and platforms. I have also paid for and downloaded two items from
https://scalescenes.com/
as recommended by my brother. These provide instructions and building sheets that you need to print out. Obviously you also need to purchase the relevant card, etc. It will be interesting to see what these look like bearing in mind my abilities or lack thereof!
Another downloading site is
http://www.smartmodels.co.uk/
but I haven't looked at what's available there properly.

ALEC
-
Supporter of MSTS and TSSH!

rufuskins




Posts

: 3483


Join date

: 2013-01-17


Age

: 69


Location

: Milnrow, Lancashire



I have now loose laid a new track layout, which I hope will give slightly better operational interest. I haven't fixed anything down yet as I'm currently building a station from Scale Scenes that needs to be positioned on the layout as it will then determine a more accurate setting out for the track. I have wired up the points although obviously they can't be located yet until the above is sorted. It looks like the baseboard framing won't clash.

ALEC
-
Supporter of MSTS and TSSH!

rufuskins




Posts

: 3483


Join date

: 2013-01-17


Age

: 69


Location

: Milnrow, Lancashire



Hi Alec,

It looks like your off to a great flying start! I look forward to seeing how the layout progresses!
Don't worry if it takes a long time to do anything, or if you end up starting another layout before this one is done (or another 2 in my case). It is a hobby for relaxation and fun, something some people seem to forget.

I moved this topic into a new section for the forum for a reason, not to be unfair but so as to better showcase the work that will be done. I remember something being said in the early days of the forum about setting up this section, so it has finally been done.

Regards,
Justin

p.s. I just made it so your topic will always be at the top of the listings.


---
Permissions in this forum:
You
cannot
reply to topics in this forum